Jenna Lyons , creative director of J.Crew, talked to Today about Michelle Obama and daughter Malia's outfit.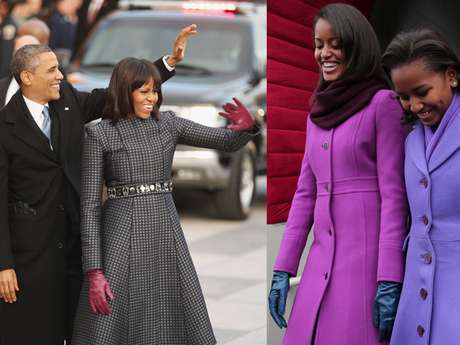 The fashion maven "found out that morning, as [Michelle Obama] left to go to church ... watching TV just like the red of the world."
Michelle Obama in Jason Wu gown for Inaugural Ball 2013

See Michelle Obama's bangs in action! (Video)
Now that FLOTUS has made headlines as to the outfit she wore, people are interested in in purchasing a similar look.
"Obviously people want to have a taste or part of what she's wearing, but most often she's purchased it in previous seasons or has pulled it out of her closet so it's not avaialble," and "out of respect for the First Family, we don't" duplicate the looks in the next collection."
"The Lady Day coat that Malia was wearing has been in our line for years, and we'll continue that, but we'll retire the color." The belt that Michelle Obama wore was actually a sash will be discontinued: "We won't rerun that. She did her own thing to that, and out of respect, we'll let her have that moment."
What do you think of the decision of J.Crew to discontinue the items the First Family wore?